Computer and Audiovisual Course
Universidade Livre da Chapada Diamantina – Turma 2020.1 (Mucugê)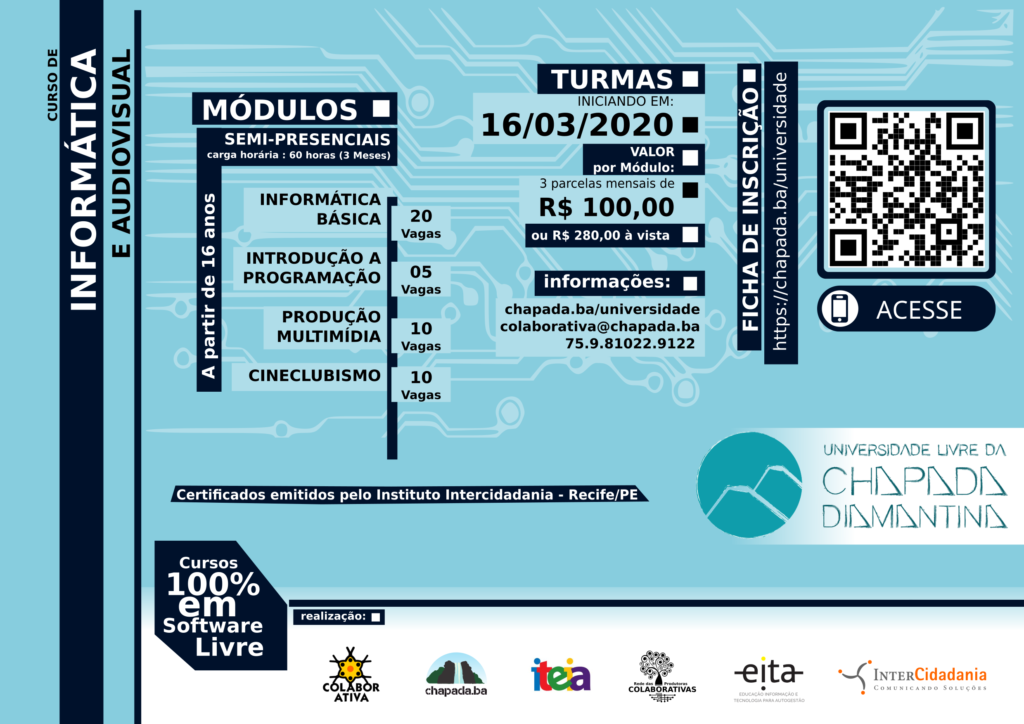 Registration of the computer and audiovisual course of the Free University of Chapada Diamantina are open. Intended for young people and adults from the age of 16, the course consists of independent modules; each module has a workload of 60 hours and a duration of three months.
The following modules are part of the computer and audiovisual course:
How a computer system works (E.g. Mobile), Hardware, Software, Operating Systems, Office Programs, Internet, Email, Social Networks, Blog.
GNU Linux (different distributions), Libreoffice, Firefox, Chromium, Thunderbird, WordPress
Introduction to Computer Programming:
How does a computer program work? Programming logic and algorithms, data structure (blocks), control structures (instructions), introduction to programming with Scratch (MIT), Game design.
GNU Linux, Firefox, Day, Scratch
How does a Collaborative Cultural Producer work? Areas of Activity (Ex: Dissemination and Coverage of Events); Graphic Design: Image Editor (GIMP), Graphic Parts Editor (Inkscape); Audio (Audacity and Mixxx); Video (Kdenlive):
GNU Linux, Firefox, Gimp, Inkscape, Audacity, Mixxx, Kdenlive
How does a cineclub work? Management and sustainability of an audiovisual exhibition space, organization of audiovisual shows; Content production (script creation and audiovisual project).
GNU Linux, Firefox, LibreOffice, VLC
Each module has 60 hours of semi-face-to-face training (part in the classroom, partly in a virtual environment that can be accessed, including, by mobile phone);

Classes will take place twice a week, with 2 hours of duration each class, for 3 months;

Tasks to practice content using a platform on the Internet; Content practice activities will be carried out on an internet education platform;

The course is taught using free technologies, thus the teaching material, as well as the applications taught, will be available to be downloaded on a digital platform on the Internet.
Investment and Certification

Value per Module: R$ 280.00 (spot) or 3 installments of R$ 100.00

The certificate of completion will be issued by the Intercitizenship Institute, based in Recife – PE, through the minimum presence of 75% of face-to-face meetings, activities on the online platform for distance education and evaluation of the group of educators of Institution.

What is the Free University of Chapada Diamantina

The Free University of Chapada Diamantina (ULCD) is a realization of the Intercitizenship Institute and the Collaborative Producer of Chapada with the support of the Portal Chapada.BA, ITEIA.NET Network, EITA Cooperative and Collaborative Cultural Producers Network.
ULCD aims to bring together institutions in the territory of chapada diamantina that promote educational initiatives in order to give visibility to the formative processes available to residents and visitors of the chapada, as well as support the sustainability of educators and these institutions. Formative actions with open registrations, shared by campus or thematic area can be found on the ULCD portal.