This Saturday, 08/06, from the 16 hours, happens the 4th edition of the Arts Fair of Mucugê. It has art to give and sell!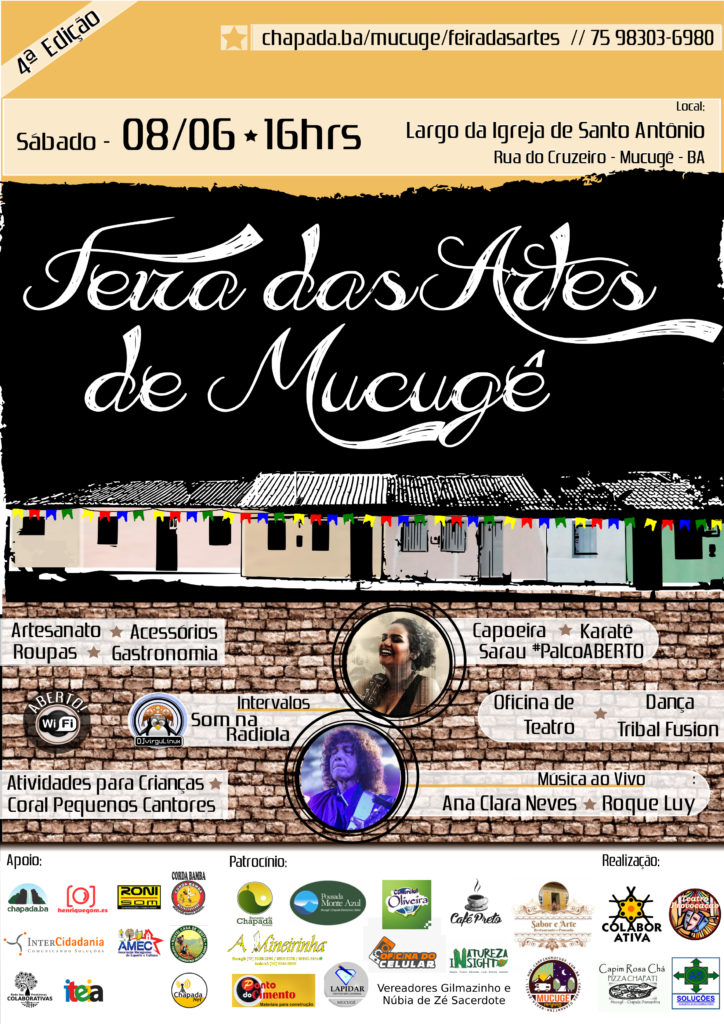 Crafts, paintings, clothes and accessories, gastronomy and much more!
The program starts at 16:00 with activity for children with Patrícia Bastos
At 17:00, we have a presentation of the Karate group and, at 17:30, Tribal Fusion Dance and the choir small singers of Mucugê
18:00, the theater workshop is held with the collective Teatro provocation, facilitated by the Arteeducator, Lucas Mattos
At 18:30 you start the Sarau #PalcoAberto – Bring your art! With free microphone for those who want to show their talent
19:00, we will be presenting capoeira and Samba de Roda with the group Corda Bamba
At 20:00, the fair will take a break in the attractions to honor the activities of the Trecena de Santo Antônio.
20:30, we returned with the live music: presentation of the singer Ana Clara Neves
21:30, closing the schedule, show of Roque Luy
In the intervals between the attractions the sound is on behalf of DJ VirguLINUX and the project Som na Radiola!
Check out a bit of the third edition:
[KGVID] http://www.chapada.ba/wp-content/uploads/2019/05/feiradasartes4edicaofinal.mp4 [/KGVID]
Free entrance! Join and bring your art!
MUCUGÊ ARTS FAIR – HAS ART TO GIVE AND SELL!
Check the location of the event on the map below:
[Osm_map_v3 map_center = "-13.0047,-41.3727" zoom = "18" width = "100%" height = "450"]